Ergonomic office chair ANGEL Europa
Fotel ergonomiczny eurOpa jako fotel do eleganckiego biura lub gabinetu
Obrotowy fotel ergonomiczny eurOpa, to funkcjonalne rozwiązanie zapewniające wygodę pracy. Jeżeli spędzasz długie godziny w pracy przed komputerem, to ten fotel został stworzony dla Ciebie. eurOpa spełnia funkcję fotela biurowego zdrowotnego, ponieważ zawiera aż 6 punktów regulacyjnych, które pozwolą na pełne dostosowanie fotela, również dla osób wysokich i dobrze zbudowanych. Dzięki odpowiedniemu dostosowaniu fotela do ciała użytkownika, fotel niweluje ból pleców. Zastosowano tu oddychające materiały, przyjazne w kontakcie ze skórą. Konstrukcja fotela została oparta na stabilnych kółkach, których materiał nie niszczy i rysuje podłoża. Szczególną zaletą fotela ergonomicznego jest wygodne siedzisko w kształcie litery "W", które zostało zaprojektowane w celu odpowiedniego wsparcia miednicy i mięśni pośladków. Dzięki temu zastosowaniu użytkownik nie odczuwa dyskomfortu siedzenia, nawet pomimo wielogodzinnej, siedzącej pracy.
Regulacja zagłówka
Zagłówek posiada regulację wysokości góra-dół oraz regulacje kąta położenia o 45 stopni, dzięki czemu pozwala na odpowiednie wsparcie kręgosłupa w odcinku szyjnym.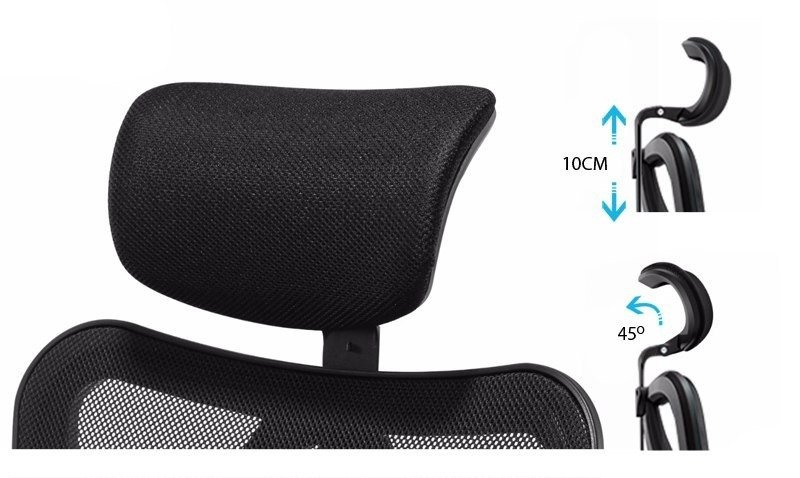 Regulacja wysokości i głębokości podparcia lędźwi
Oparcie z funkcją regulacji podparcia odcinka lędźwiowego w dwóch płaszczyznach - wysokości oraz głębokości pozwala na ustabilizowanie pleców w najbardziej newralgicznym punkcie.
Regulacja podłokietnika
Fotel posiada regulacje wysokości podłokietników, które zostały wyposażone dodatkowo w antypoślizgowy materiał, który pozwala na wygodne ułożenie ramion podczas odpoczynku.
Regulacja oparcia
Zastosowanie mechanizmu TILT pozwala na regulowanie kąta odchylenia oparcia, co pozwala na dostosowanie kąta oparcia pleców do własnych preferencji i wygody.
Regulacja wysokości oraz siły odchylenia
Regulowane siedzisko pozwala na dostosowanie fotela bezpośrednio do wysokości użytkownika i jego biurka. Zastosowanie regulacji w tym miejscu jest szczególnie istotne, ponieważ pozwala na pełne ustabilizowanie stóp oraz miednicy, niwelując przy tym ból oraz mrowienie w kończynach.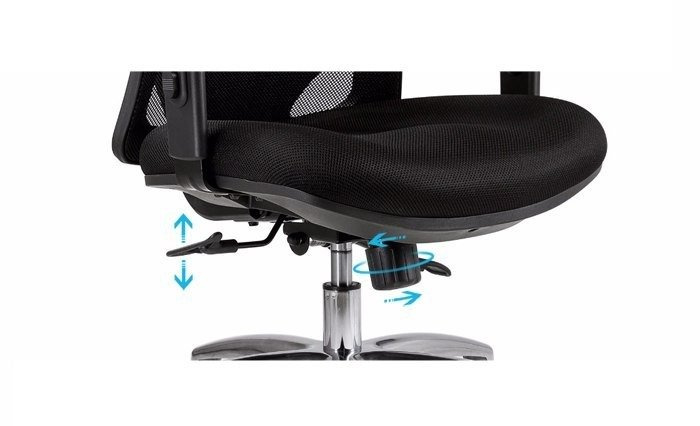 Specyfikacja
Producent: Angel
Model: eurOpa
Kolor: czarny
Materiał: tkanina + siatka
Oparcie: wentylowana siatka
Kółka: poliuretan nierysujący
Mechanizm: TILT
Regulacja siedziska: płynna zmiana wysokości
Prosty montaż: tak
Liczba paczek: 1
Waga paczki: 19 kg
Maksymalna waga użytkownika: 110 kg
Wymiary opakowania: 75x32x65 cm
Wymiary siedziska: wys.12cm,szer.51cm,głęb.44cm.
Długość towaru w centymetrach
Wysokość towaru w centymetrach
Szerokość towaru w centymetrach
Waga gabarytowa w gramach
Maksymalna wysokość siedziska
Minimalna wysokość siedziska